SEATTLE - Last week it was made official that Nick Rolovich would become the head football coach at Washington State University; the 33rd in program history. Rolovich is coming to Pullman after serving as the head coach at Hawaii University for the last four years.
So how is 'Rolo' getting acclimated with Cougar fans in the Northwest? Monday night he took to Twitter to see if there were any Coug fans in the Seattle area that wanted to meet up, and to drop the address for him to swing through. No, I'm not joking, and yes, he actually showed up.
The tweet that went out around 9:00 P.M. read, "Let's try this again. Any #GoCougs fans out in Seattle tonight? Send the address. Trying to sharpen the claws with some of you guys tonight."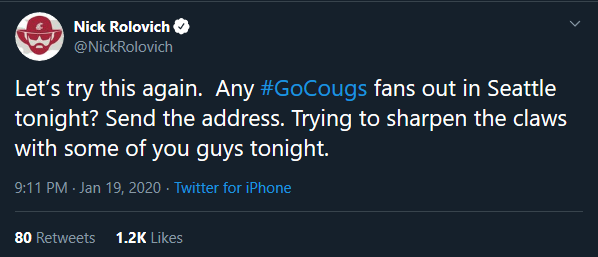 Over 80 different comments came through on the post, with the most popular suggesting he stop by the Magnolia Village Pub in Seattle. Then, a half hour later, coach Rolovich posted a picture of the sign outside the Pub with the hashtag #LetsRoll.
Plenty of Cougar fans weren't going to miss this opportunity to sit down for a cold one with the coach, as a healthy crowd gathered the establishment throughout the night. Rolovich even went as far as to cover the tab at the end of the night.
Safe to say the new head coach is off to a good start with trying to earn his way into the hearts of the Cougar faithful.