LEWISTON - Both Lewis-Clark State Cross Country teams joined the NAIA's top 10 in the final edition of the top 25 poll, that was released on Monday. Both teams overtook teams ranked ahead of them in the previous poll at the Cascade Conference Championships on Friday and both are likely headed to Cedar Rapids, Iowa next week for the national meet.
#8 Men's Cross Country
The eighth-ranked Warrior men captured their first CCC title in program history and sixth straight conference title (five in a row in the Frontier). Cole Olsen led the way with his second straight individual conference title and fourth win in as many races this season. He, along with Clayton VanDyke and Chase Barrow, finished in the top 15 to claim All-Cascade Conference honors.
LC State squeaked out the victory by four points ahead of then 17th-ranked Oregon Tech. Then 8th-ranked College of Idaho finished third as a team. The Warriors earned the automatic bid to the NAIA National Championships on April 9.
Full Rankings: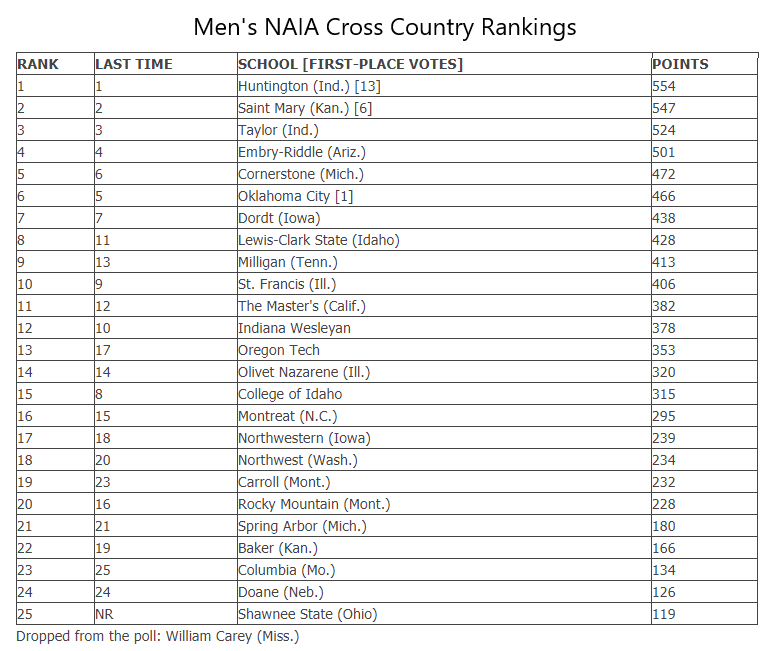 #9 Women's Cross Country
The ninth-ranked LC State women jumped seven spots to Number 9 in the final poll of the season after a strong showing at the CCC Championships. The Warriors finished second as a team at the meet, led by a second-place individual finish by Callie Johnson. Emily Adams finished 14th as both claimed all-conference honors.
The Warriors finished ahead of then 11th-ranked Oregon Tech to earn their spot in the nation's top 10 and strengthen their argument for an at-large bid into the national championships. Second-ranked College of Idaho won the CCC title.
Full Rankings: