ASOTIN COUNTY - On February 3, a livestock producer reported a dead calf in a fenced private pasture to WDFW staff, who later that day conducted an investigation.
The investigation revealed hemorrhaging on both back legs and the inner hide of the left leg with most of the hindquarters consumed. These injuries were indicative of wolf depredation. Tracks of a single wolf were present throughout the pasture, along with drag marks and a blood trail. Based on the combination of tissue damage with associated hemorrhaging and wolf sign, WDFW staff classified this event as a confirmed wolf depredation.
The depredation location was roughly two miles southeast of a confirmed wolf depredation by the Grouse Flats pack last year and in an area utilized by the Grouse Flats pack.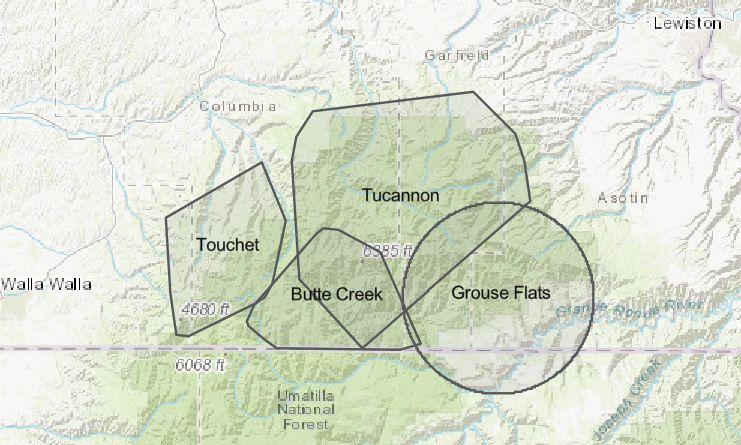 When this depredation was discovered, the livestock producer was checking on their cattle daily. In response to this depredation, WDFW staff deployed Fox lights and fladry around the calving pasture, which the livestock producer reduced from 140 acres to 10. The livestock producer also implemented penning of cattle at night and increased the frequency of checks on cattle to multiple times per day and at night.
WDFW Director Kelly Susewind authorized incremental removal of wolves from the Grouse Flats pack on September 24, 2019 after WDFW staff confirmed four livestock depredations by the pack in a span of approximately two months.
On September 25, WDFW lethally removed an adult female member of the Grouse Flats wolf pack. 
This depredation is the fifth depredation in approximately seven months attributed to the Grouse Flats pack. Given that this incident was an isolated occurrence in a calving pasture, appeared to be an opportunistic depredation rather than an ongoing pattern, and several non-lethal deterrence options were available to be deployed, lethal removal is not being considered at this time. WDFW staff will continue to monitor the area to mitigate future conflict