OLYMPIA - On Thursday, Washington Governor Jay Inslee announced a number of actions the state will take in an attempt to help alleviate the staffing crisis facing many Washington hospitals. 
Among them, Inslee plans to deploy the National Guard to be deployed to emergency departments, pausing non-urgent procedures for four weeks, and calling on retired health care workers to temporarily return to the workforce, among other things.
Deploying the National Guard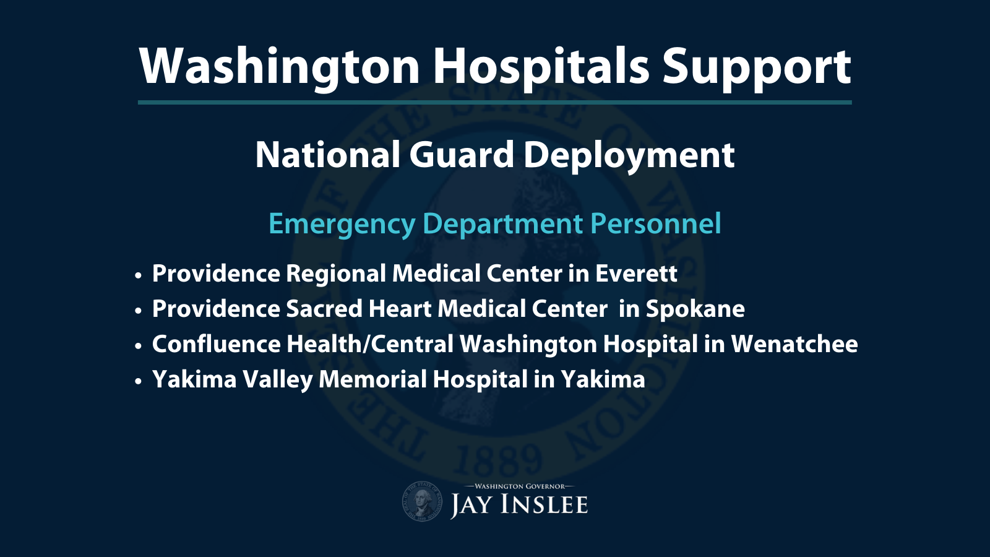 Inslee has asked the Washington State National Guard to deploy 100 non-clinical personnel across the state to be deployed to the emergency departments to assist with various non-medical tasks to alleviate the crowded situation currently existing within those emergency departments.
The members of the state National Guard will be sent to:
Providence Regional Medical Center in Everett
Yakima Valley Memorial Hospital in Yakima
Confluence Health/Central Washington Hospital in Wenatchee
Providence Sacred Heart Medical Center & Children's Hospital in Spokane; and provide COVID testing teams
The National Guard will also be deployed to the following locations to set up testing sites:
Providence St. Peter Hospital in Olympia
Kadlec Regional Medical Center in Richland
UW Medicine/Harborview Medical Center in Seattle
MultiCare Tacoma General Hospital in Tacoma
There are additional FEMA testing sites that will be set up in King County and Snohomish County
Pausing Non-Urgent Procedures
With hospitals being at capacity, hospitals are now required to temporarily halt non-urgent procedures for four weeks so as much capacity and as many staff can be dedicated to emergent patients at the hospitals.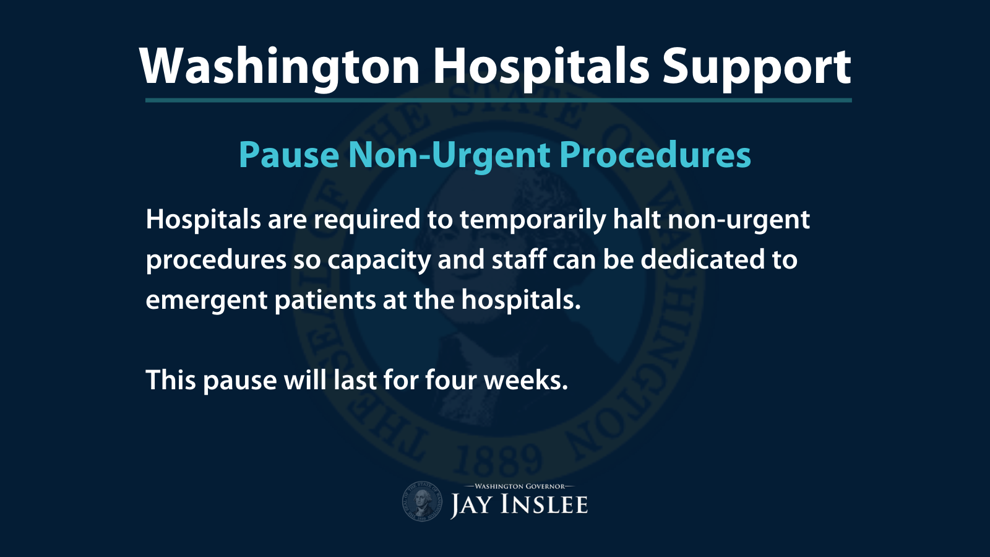 Masks for Health Care Workers
Hospitals are now required to operate in conventional PPE levels within the so that those who are coming to work under stressed conditions are able to feel confident that they are being given every opportunity to protect themselves. 
Calling on Retired Health Care Workers
Inslee is also calling on retired health care workers to return to the workforce temporarily to help with the current crisis staffing. Retired health care workers are being asked to help with testing, vaccinating, working in the hospital or other locations. If you are interested, you can sign up at WAServ.org.
Investing in the Health Care Workforce
In his supplemental budget, the governor invested about $30 million to allow nurses, nursing assistants, and medical assistants to achieve their educational and clinical requirements without facing delays caused by limited opportunities for training.