OLYMPIA - On Thursday, July 30, Attorney General Bob Ferguson and Secretary of State Kim Wyman issued statements in response to President Trump's tweet where he suggested the delay of the November election. On Thursday morning, President Trump tweeted: "With Universal Mail-In Voting (Not Absentee Voting, which is good), 2020 will be the most INACCURATE & FRAUDULENT Election in history. It will be a great embarrassment to the USA. Delay the Election until people can properly, securely and safely vote???"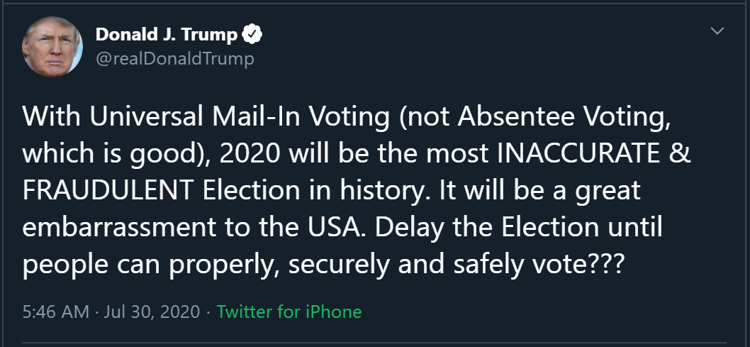 Attorney General Bob Ferguson issued the following response:
"President Trump's statement that he may unlawfully delay the November election is undemocratic, un-American, and, sadly, entirely predictable," Ferguson said. "For months, my legal team has been preparing for the possibility that the president might attempt to unlawfully delay the election. If that happens, we will see President Trump in court — and we will win."
Washington Secretary of State Kim Wyman's response to the tweet can be read below:
"The 2020 General Election will take place Nov. 3 as required by law. Only an act of Congress can change that, and comments from lawmakers on both sides of the aisle have assured the American people that the election will take place as planned.
"The President's and Attorney General's continued consternation with vote-by-mail is precisely why I invite them to come to Washington state to see firsthand how my office and Washington's 39 county election officials have worked diligently to build in robust security measures so people can vote safely this fall."