OLYMPIA - On Tuesday, May 3, Washington Governor Jay Inslee signed an economic justice legislative package, including the Working Families Tax Credit and the capital gains excise tax, that starts the process of making Washington's upside-down tax system fairer and more equitable.
The governor signed the package at the Tukwila Community Center surrounded by legislators, local elected officials and community groups.
"This is a day where Washington state starts to make progress on making our upside-down tax system fairer and more equitable," Inslee said Tuesday. "Today, we are taking steps to address this out-of-date system where working families pay a much higher percentage of their income than those who make a lot more."
Currently, low-income Washingtonians pay 17% of their income in taxes while the middle class pays 11% and the wealthiest pay just 3%. The capital gains excise tax legislation will begin to right this upside-down tax structure. An estimated less than one-quarter of one-percent (0.23%) of Washingtonians will pay the tax.
The capital gains excise tax on extraordinary profits was first proposed 10 years ago by the Washington State Budget & Policy Center. The governor first introduced the tax in 2014. With the governor's signature, Washington joins 41 other states and the District of Columbia in taxing capital gains. An estimated less than one-quarter of one-percent (0.23%) of Washingtonians will pay the tax.
"Together, the capital gains excise tax and the Working Families Tax Rebate are a significant first step toward balancing our regressive tax code and supporting the economic well-being of working families in every corner of our state," said Noel Frame, chair of the House Finance Committee. "We are asking the wealthiest Washingtonians to share in the responsibility of funding the needs of our communities and putting money back in the pockets of low-income families. Not only that, but the investments made in child care and education will bolster economic recovery and support the success of Washington's children."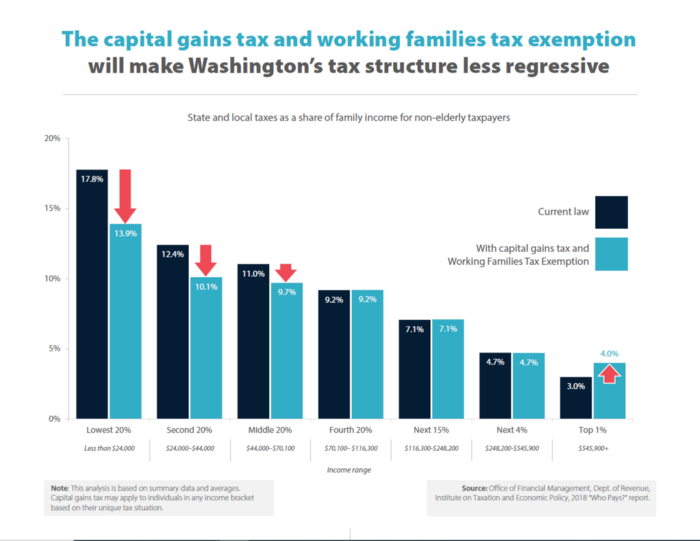 The governor also signed legislation to implement and expand the Working Families Tax Credit. By funding the Working Families Tax Credit, the state will finally fulfill a promise made by the Legislature, which established the tax credit years ago but did not fully fund it at the time.
"The Working Families Tax Exemption is the first step to correct our regressive tax code. It recognizes the contributions from low-income workers, people with disabilities, immigrants and refugees who bear the biggest burden to uphold our state's economy, especially during crisis," House sponsor Rep. My-Linh Thai said. "It promises a government that works for people who have not been allowed to build wealth in a country full of possibilities. This legislation is a commitment to honor those who keep our communities strong. This legislation is one that puts people first."
The tax credit will provide a financial boost for approximately 500,000 families across the state. It will ensure that Washingtonians working hard to make ends meet have a little bit of added financial security.
"This policy is an important step to help our neighbors across the state," Sen. Joe Nguyen, who sponsored the Senate legislation, said. "Putting money back into our system by supporting families during a time of such great need is not only the right thing to do, but it will also help to alleviate the inequities that have been exposed over the last year. It's a smart policy that puts people before politics and a great step forward for our state."
The governor named the bill after Tony Lee, a longtime advocate for tax fairness for low-income families, who passed away last year. In addition to Lee, countless individuals and coalitions have worked together and with legislators to right the state's regressive tax code.
"I would like to thank all the individuals, groups and labor involved for their hard work and years of effort on these very important pieces of legislation that will help many Washingtonians," Inslee said.