RIGGINS - The Idaho Transportation Department plans to open US95 to traffic during daylight hours between Pollock and Riggins on Wednesday, July 8 following the evaluation of geotechnical experts and positive results from continued monitoring. The highway will only open during the day to allow observation of the slope. The hours of open traffic on Wednesday will be from 10:00am PDT - 8:00pm PDT. During this time, one lane of alternating traffic will be allowed. Delays could last as long as 30 minutes.
"We have built a rock berm and placed large container boxes to shield traffic from any unforeseen rockfall," Operations Engineer Jared Hopkins said. "A spotter and a surveyor will watch the hillside and be ready to have flaggers close the highway in the unlikely event it becomes unstable." 
Starting Thursday, ITD plans to open the highway from 6 a.m. to 8 p.m. PST each day. Approximately 30 minutes before the highway is closed each night, staff at barricades in Riggins and New Meadows will turn traffic away.
Crews will continue breaking down rocks and pushing them up against the existing berm to make it taller and provide more room for any further debris.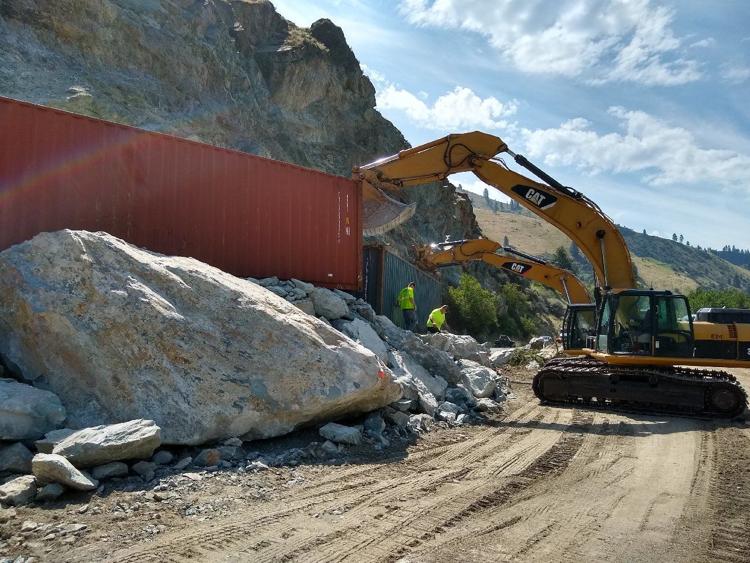 "Yesterday geotechnical professionals measured the slope to identify short-term options to get the highway safely open," Operations Engineer Jared Hopkins said. "Today rock scalers will keep dislodging any loose material."
Improvements to Old Pollock Road will be completed later today, serving as another one-lane gravel option for local commuters only but not commercial traffic.
"For the time being, motorists should plan for congestion and expect the highway to be closed at night when we can't monitor the slope," Hopkins said. "We expect to keep flagging and monitoring for several weeks until we identify a long-term solution."