OROFINO - According to the daily update from the Idaho Department of Lands, the Sunnyside Complex Fires comprised of the Clover Fire, MM49 Fire and the Iron Gate Fire are a combined 4,614 Acres, and approximately 70% contained.
Clover Fire
The Clover Fire remains at an estimated 1,632 acres and is approximately 95% contained. Firefighters continue patrolling and mopping up interior hotspots or hazard trees which could pose a threat to structures, powerlines, or containment lines. Interior smoke will likely continue to be visible as tree stumps smolder, but the containment line is quite secure. Crews have begun suppression repair and a Resource Advisor has been evaluating suppression rehabilitation needs.
MM 49 Fire
The MM49 Fire grew just over 200 acres in the last 24 hours, and is now estimated at 2,867 acres and is approximately 65% contained. Fire crews completed the burnout operation down to Highway 12 on the southeast area of the fire. On Tuesday crews will mop up along the highway and around private structures within the burnout area.
Mop up and suppression repair have begun on the north, west, and south perimeters. Due to the fire activity, rocks and debris continue to roll down onto Highway 12, and those traveling on that route should exercise caution.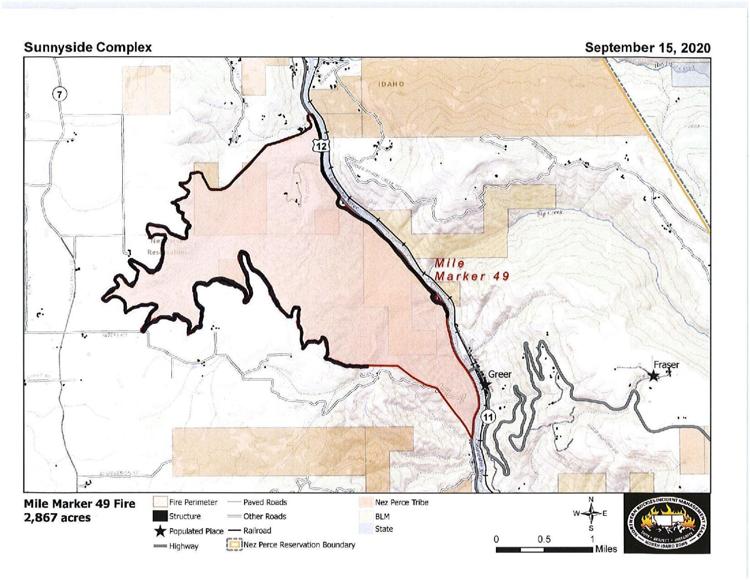 Iron Gate Fire
The Iron Gate Fire is now around 115 acres and approximately 50% contained. The gain of 20 acres was reportedly due to more accurate mapping and not related to fire growth.
The southern portion of the fire has burned downslope to West Fork Stony Creek where moist conditions have minimized fire spread. Firefighters have completed handline along the eastern fire perimeter, hand line and hose lay along the western perimeter, and dozer line along the northern perimeter above the road. Additionally, much of the western and northern fire perimeter has been mopped up, and fire managers plan to turn back management Clearwater-Potlatch Timber Protective Association tomorrow.
A small road segment that leads into the fire (locally known as the "Iron Gate" road) is currently closed to public.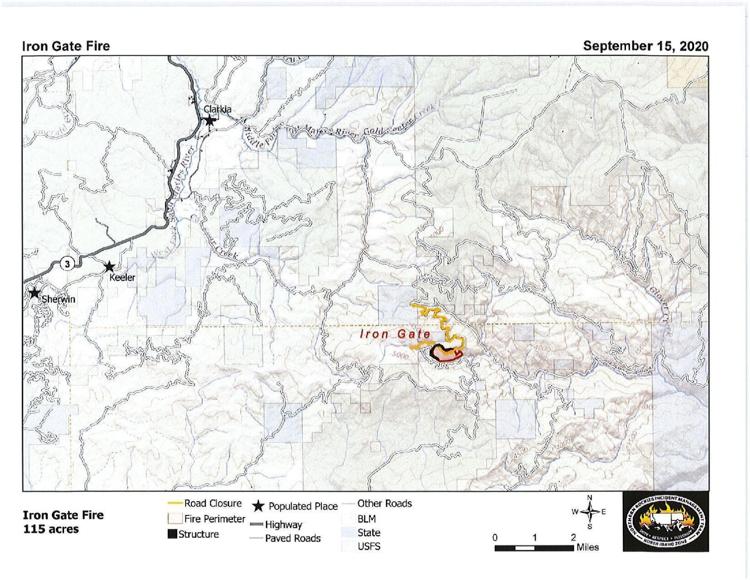 Closures/Restrictions/Evacuations
Travel on Highway 12 remains restricted to a single lane with a pilot car guiding traffic through the MM49 fire area (approximately MM48 to MM53), and the road could be temporarily closed at times for public safety. Please use caution to avoid rolling/falling debris in the area, expect a potential 60-minute delay in the area, and if possible, select alternative routes between Orofino and Kamiah. Vehicles are being allowed to turn either direction from the Greer bridge onto Highway 12.
No evacuation orders are currently in place. For information about evacuation status, please contact the appropriate county Sheriff's Office: Clearwater County Sheriff's office at 208-476-4521 and Lewis County Sheriff's Office at 208-937-2447.
Community Meeting
A virtual public meeting will be held on Wednesday, September 16, at 6:00pm on the Sunnyside Complex Fires - Idaho Department of Lands Facebook Page.  Air quality in the area is currently unhealthy due to a combination of both area smoke and drift smoke from large fires in Oregon and California.