OROFINO - The Sunnyside Complex fires burning outside Orofino have now reached an estimated 3,500 acres combined after recent mapping of the area.
The Clover Fire saw no growth since the previous update, and remains at an estimated 1,632 acres and 20% containment. There has been moderate fire behavior in the interior of the burn as stump holes, duff, and heavies continue to smolder. Warming and drying trend through Saturday will cause more smokes to become visible. Firefighters are actively monitoring and mopping up these hotspots where they pose a potential threat. Fire personnel are removing hazardous burned trees in the area of power lines to make sure the area is safe for utility crews to work.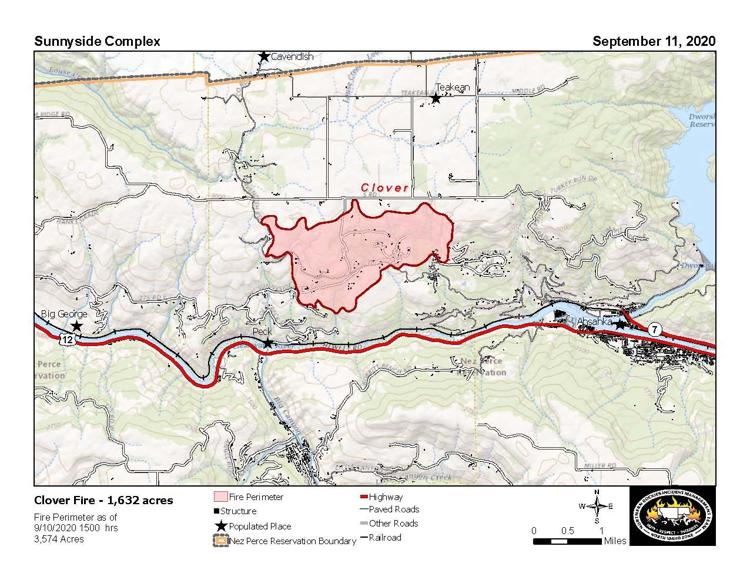 The MM49 Fire continues to actively burn, and has more than doubled in size since the previous day's update. After being estimated at 829 acres the day prior, the MM49 Fire is now estimated at 1,942 acres as of Friday, September 11. Although 0% contained, unsecured containment lines along the fire's northern and western perimeter are still holding. Recently plowed fields along the fire's southwest edge has helped secure the fire in that area, and crews are patrolling and mopping up hot spots along the fire's edge. The fire is actively burning above and next to Highway 12 along the fire's southeastern flank, causing rocks and debris to roll down onto the road.
On Friday, firefighters will continue protecting power poles with fire resistant wrap along Highway 12, as well as ongoing structure protection efforts around several properties in the vicinity of the fire. Fire crews are continuing to improve dozer lines and hand lines southeast of the fire area in anticipation of a burnout operation, to help secure indirect line should weather conditions become favorable. These operations may be visible from Highway 12 and may cause temporary delays for travelers in the area.