OROFINO - Total acreage of the Sunnyside Complex Fires outside Orofino has been reduced to 4,351 combined acres due to more accurate mapping of the fires. The Sunnyside Complex Fires currently includes the Clover Fire and MM49 Fire. The Iron Gate fire was added to the complex on Saturday, September 12; however, fire managers returned command of that fire to the Clearwater-Potlatch Timber Protective Association (CP- TPA) at 6:00am Wednesday. 
Clover Fire
After a more accurate mapping of the Clover Fire, it is now estimated at 1,550 acres and approximately 95% containment. For the last several days the fire had been estimated at 1,632 acres. Firefighters continue mop up and suppression repair around the fire perimeter. Hotspots or hazard trees which could pose a threat to structures, powerlines, or containment lines are being addressed as they are located. Interior smoke will likely continue to be visible as tree stumps smolder, but the containment line is quite secure.
MM 49 Fire
The MM49 Fire acreage also changed slightly due to more accurate mapping and is now estimated at 2,801 acres with 75% containment. Fire crews continue mopping up the fire perimeter and providing point protection around private structures where necessary (primarily adjacent to the Highway 12 corridor). Fire managers expect that some pockets of unburned fuels within the fire perimeter may continue to smolder for some time. Due to the fire activity, rocks and debris continue to roll down onto Highway 12, and those traveling on that route should exercise caution.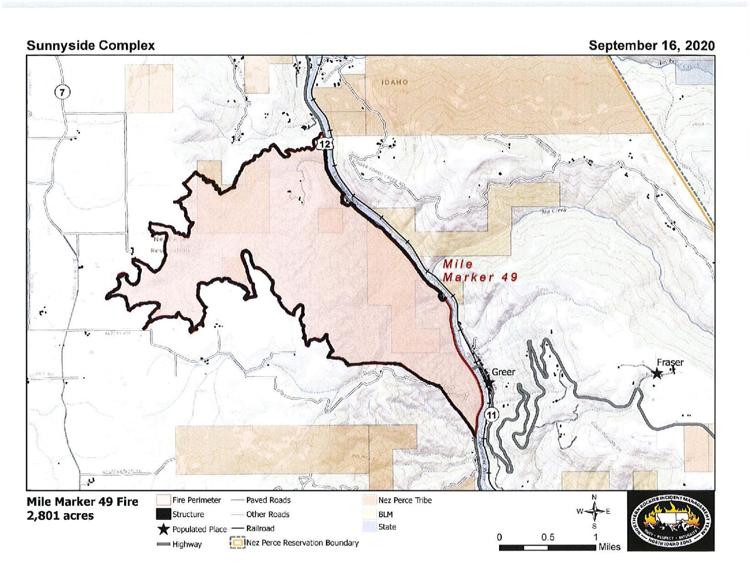 Closures/Restrictions/Evacuations
The pilot car continues to guide traffic through one lane of Highway 12 between MM48 and MM53. Vehicles are being allowed to turn either direction from the Greer bridge onto Highway 12. Travel patterns are likely to change as fire management activities decrease. Temporary Flight Restrictions (TFR) have been lifted from the Clover fire; however, a TFR is still in effect around the MM49 fire area.
No evacuation orders are currently in place.
Virtual Community Meeting
A virtual public meeting will be held at 6:00pm this evening (Wednesday, September 16) via Facebook on the Sunnyside Complex Fires - Idaho Department of Lands Facebook page.
Air quality in the area is currently unhealthy due to a combination of both area smoke and drift smoke from large fires in Oregon and California. Check http://idsmoke.blogspot.com/ for current air quality conditions.