FRUITLAND - 5-year-old Michael Vaughan has been missing now for over 70 days from the southern Idaho city of Fruitland. Officials say over the past few weeks, the Fruitland Police Department, the Idaho State Police, and the FBI have continued the search.
Fruitland Police say tips are coming in and they are being followed up on. The total number of tips received is 471 as of Friday. "We are committed to scrutinizing every detail in this investigation and it is taking time. This remains a very active investigation at all levels and will continue," says a Fruitland Police statement.
Police say they continue to discover vehicles and individuals on video that have not yet been identified. "We are seeking the public's assistance with the identification of the driver of a 2016-2020 model year, white, Honda Pilot seen leaving the area on SW 8th St. around 6:47pm. We are also seeking assistance with the identification of the driver of a 2010-2011 model year, blue, Dodge Avenger also seen leaving the area on SW8th, but immediately turning right and headed south on South Whitley Drive," says a police statement.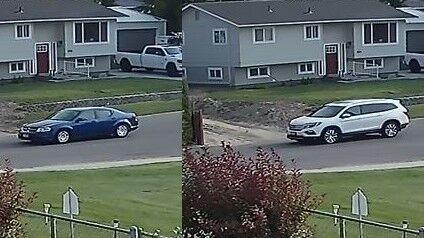 Two unknown individuals were also seen near the splash pad and Crestview Park the evening Michael went missing. The first individual was a male adult with dark hair and facial hair, wearing dark colored shorts, no shirt, seen jogging on the sidewalk of SW 8th Street near Crestview Park at around 6:15 p.m. The second is a male adult with dark hair, wearing a white t-shirt and black shorts seen walking off of SW 8th Street, down into the park area past the splash pad, towards the lower drainage behind the neighborhoods. Police say these people are not suspects or persons of interest, but it is important to talk to each of them to help complete the picture of the events that took place that evening.
"We have continued the ground search, although it has been limited to those areas identified by investigators as needing further attention. The family is fully cooperative, have complied with all of our investigative requests, and continue to work with investigators. We appreciate the communities support through the kind words of encouragement and prayers. We all remain hopeful," said the Fruitland Police statement.
A recent anonymous donation to the reward fund for Michael's return has increased the fund to $40,000.00.