BOISE - Idaho's general spring turkey season and many controlled hunts across the state are set to open Thursday, April 15, 2021. Hunters will find most general hunting opportunity in the Panhandle, Clearwater, Southwest, and Southeast regions, while most other areas are limited to controlled hunts.
The General Turkey season in Idaho (areas in Blue on map below) is open from April 15 to May 25, 2021, with the Youth Hunt General Season open from April 8-14.
The areas shown in white on the map below are CLOSED to General Season Turkey Hunting.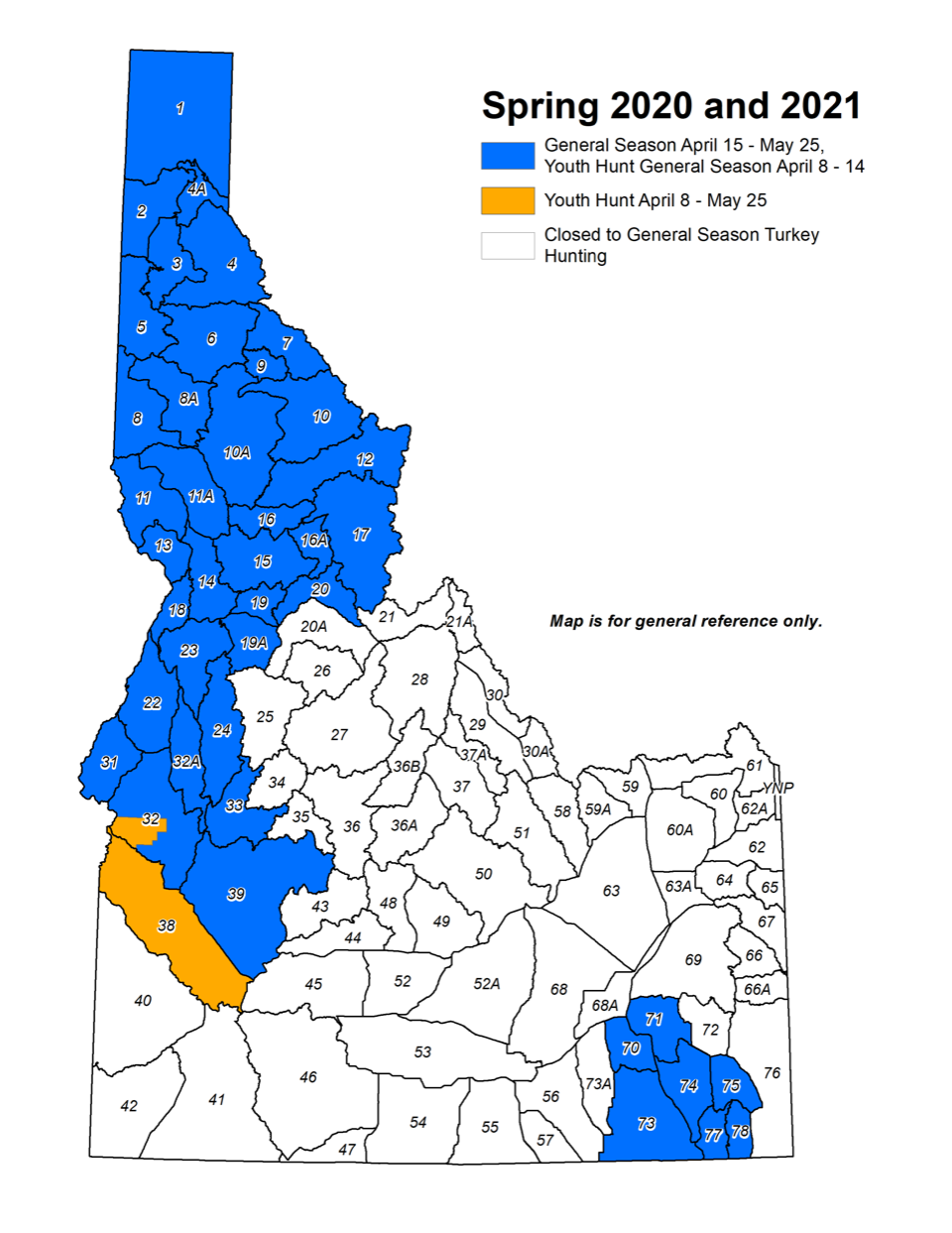 In each of the regions with general hunting opportunity, turkey populations are faring well, and the hunting outlook is as good or better than recent years. Here's the 2021 turkey hunting outlook.
"The turkey outlook for the 2021 spring season is looking pretty positive," said Jeff Knetter, statewide upland game bird manager. "Turkey populations, in general, were pretty healthy heading into this winter. This winter was relatively mild throughout the state, and we've had no major events that give us cause for concern regarding turkey survival. Last year was good for turkey hunters, and there's no reason to believe it would be different in 2021."
For full seasons dates and rules, see the Idaho Upland Game, Turkey and Furbearer season and rules.
If you're looking for a place to hunt, Idaho provides many opportunities on public lands, and Fish and Game provides access to millions of additional acres through its various hunting access programs.
Turkey hunting is also a good activity for beginning hunters, or to introduce people to hunting because you're seeking out the birds by sight or by calling, and then using calls to lure them within shotgun range.
All a hunter needs to start hunting turkeys is an Idaho hunting license and turkey tag, camouflage, a shotgun or bow, and a basic turkey call.