JULIAETTA - On Thursday, July 20, the Eastern Area Type 2 Incident Management Gold Team provided an update on the Leland Complex Fires. According to the most recent update, the Johnson Creek Fire near Elk River is now estimated at 1,025 acres with 0% containment, while the Sand Mountain Fire located approximately 2.5 miles from Laird Park in Latah County is now estimated at 1,544 acres with 0% containment.  
Leland Complex
Lighter than expected winds were in the favor of fire crews working on both the Sand Mountain and Johnson Creek Fires on Wednesday, allowing for progress to be made on lengthening and strengthening fire containment lines. An infrared flight was flown over both fires that identified hotspots, and crews will work to cool down the hotspots today.
Sand Mountain Fire
Yesterday, crews continued to reinforce the access roads along the Big Sand Creek, using heavy equipment to open access on existing roads and trails. Winds were calmer than expected, allowing crews to construct hand lines along the fires edge about Forest Road 4798. Mop-up efforts continue on the west side of the fire (east of the Little Sand Creek), and along the north side of the fire (south of the Palouse River). Crews were able to complete a hard black containment line along the northwest side of the fire.
On Thursday, fire crews will continue to mop-up hotspots and patrol the containment line along the northwest side of the fire. Along the Big Sand Creek, efforts will continue to prep access roads, and will construct direct and indirect fireline with hand crews and equipment. Crews will work to cool smoldering hotspots that were detected from the infrared flight on Wednesday. The fire containment line along the south side of the fire from Big Sand Creek is expected to tie-in at Micah Mountain today. Along the southwest side of the fire, crews will continue to strengthen the hand line above Forest Road 4798.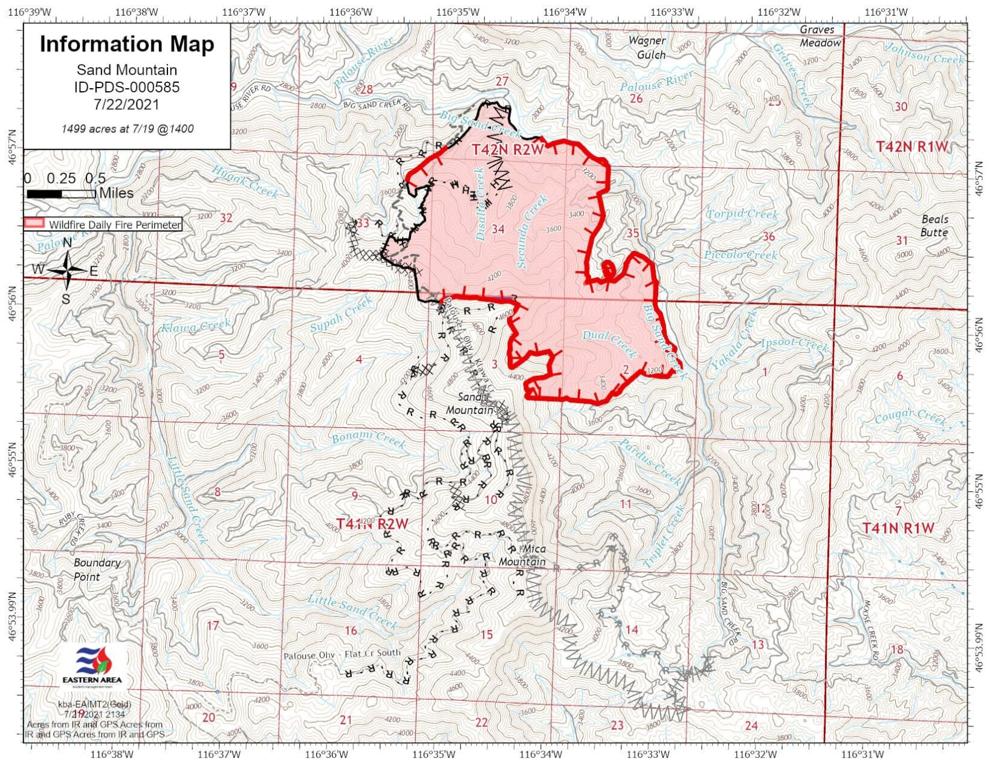 Johnson Creek Fire
Yesterday, crews and heavy equipment made great progress on lengthening and reinforcing the containment line along the south and east sides of the fire. Great progress was also made strengthening the constructed line west from Windy Point toward Elk Creek Road, and establishing a safety zone for firefighters. These containment lines will provide safe access to conduct direct and indirect fire suppression activities. Aircraft were valuable in helping cool and slow the advancement of active fire on the east side.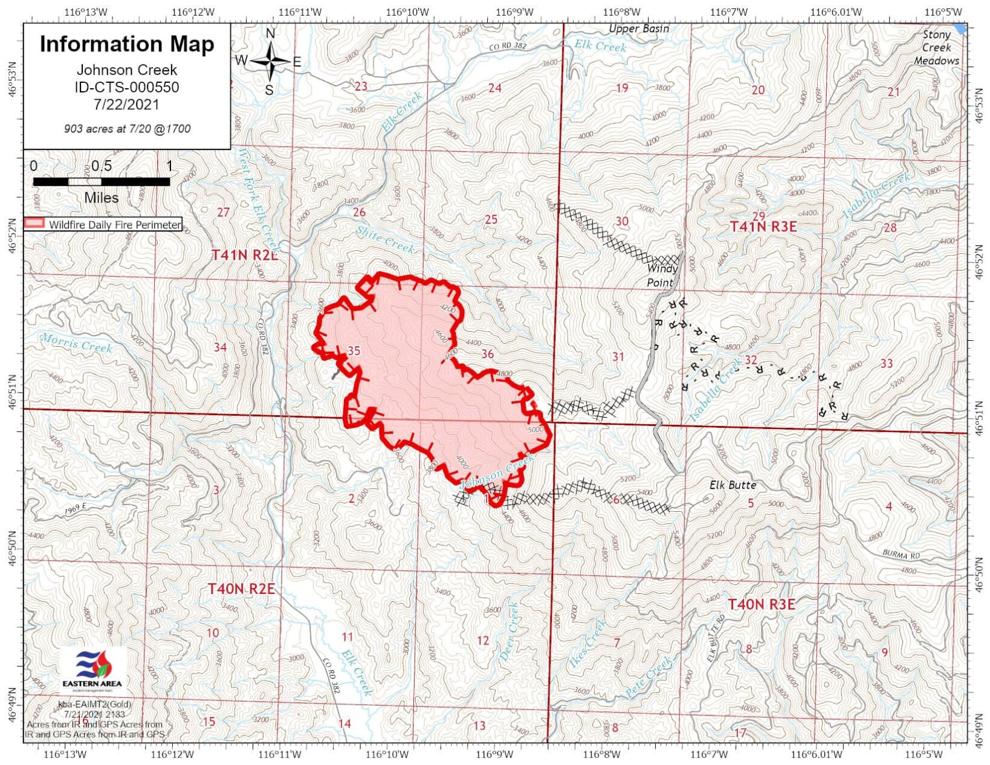 Pine Creek & Bonami Fires
Neither the Pine Creek & Bonami Fires have seen any recent fire growth. The Pine Creek Fire remains estimated at 542 acres and is 100% contained, while the Bonami Fire remains at 6 acres and is also 100% contained.
Weather
Traditional weather conditions will be more favorable with light winds, and relative humidity in the low to mid 20s and temperatures ranging from 75-81 degrees.
Evacuations and Closures
Sand Mountain Fire area roads/trail/campgrounds, including Laird Park and PotlatchDeltic leases, remain closed to the public. Details of trail, road, and campground closures can be found here: https://www.fs.usda.gov/detail/nezperceclearwater/notices/?cid=FSEPRD930787.
Temporary Flight Restrictions
There are Temporary Flight Restrictions (TFR) in place for air space over the fires in the Leland Complex. Remember that temporary flight restrictions also apply to unmanned aircraft systems or drones.
Cooperating Agencies
Idaho Department of Lands, Nez Perce Tribe, USDA Forest Service, Latah County Sheriff's Office, Nez Perce County Sheriff's Office, Nez Perce County FD, Potlatch Volunteer Fire Department (VFD, Troy VFD, Deary VFD, Moscow VFD, Juliaetta VFD, Kendrick VFD, Genesee VFD & South Idaho Timber Protections Association.