BOISE - According to new projections from the Idaho Department of Labor, Idaho's robust labor market strength is expected to continue in the short term. 
Idaho became one of the first states to recover its job losses from the COVID-19 pandemic, far ahead of many other states in post-pandemic job growth. The DOL says this growth is expected to persist through 2023 as in-migration and growing demand continue to undergird Idaho's economic strength.
The department's newest short-term projections forecast roughly 34,000 new jobs to be added in the state through 2023 for a growth rate of 2.1% per year. While almost all industries in Idaho are projected to grow, rapid growth is expected in industries tied to high in-migration levels, such as construction, as well as sectors still recovering from the COVID-19 pandemic.
Construction is projected to add 3,000 new jobs for an annual growth rate of 2.7% as demand for new housing remains high. The fastest projected growth rate, however, is in the leisure and hospitality, forecasted to grow at 3.7% annually. This sector, which includes hotels and restaurants, was slower to recover from COVID-19 and therefore has remaining room to re-add jobs that were lost in 2020.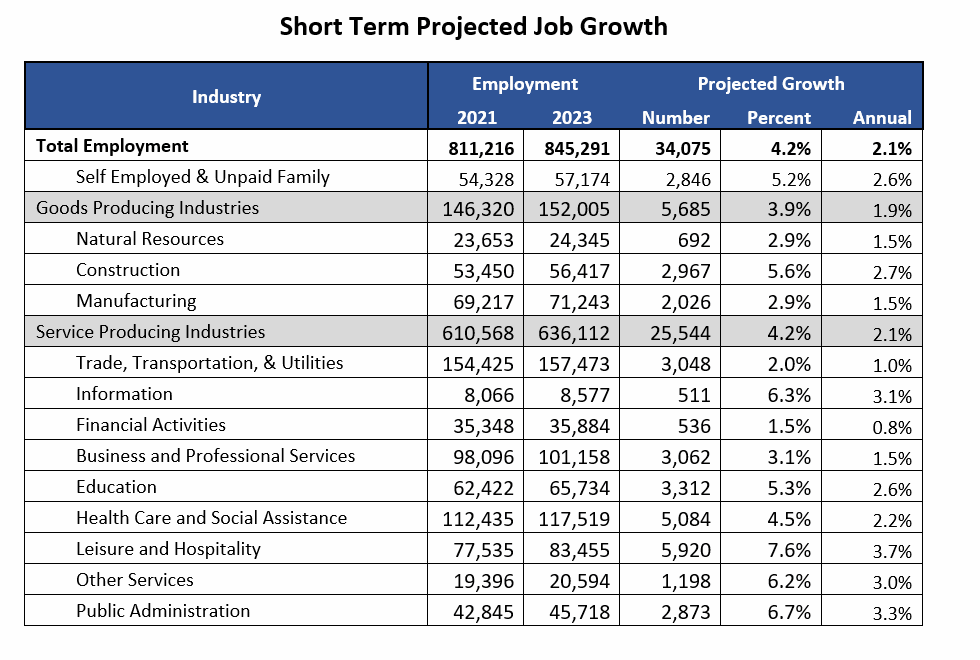 Except for the pandemic year of 2020, Idaho's job growth had exceeded 2% seven years in a row. Recent Census Bureau data also showed Idaho had the fastest population growth rate of all states in 2021, indicating demand for housing and services will continue to grow.