BOISE - According to 2020 Census data, Idaho's population grew 17.3% in the 10 years since the 2010 Census, which was the second-fastest rate nationally, to Utah's first-place growth of 18.5%. During the decade, the gem state netted 271,524 new residents through natural increases and in-migration internationally and from other U.S. states. After Utah and Idaho, the top five states for growth included Texas, North Dakota and Nevada.
Population Increases
The top 10 Idaho communities with the highest growth rates had a combined increase of 75,000 people and contributed about 28% to the state's overall growth. Meridian grew by 56.7% or a significant 42,543 residents, making national headlines as it ranked fourth in growth among cities in the entire U.S. with populations more than 50,000.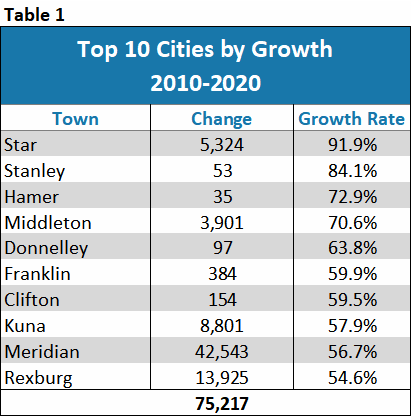 In Idaho's North Central Region, Nez Perce County saw a population increase of 2,825 (7.2%), while Latah County saw an increase of 2,273 (6.1%) and Idaho County saw an increase of 274 (1.7%). 
Lewis County (-288 residents) and Clearwater County (-27 residents) both saw decreases.
Population Decreases
Seventy Idaho communities experienced population declines.
Sixty of the 70 communities that lost population had fewer than 1,000 residents. The other 10 communities had populations above 1,000 ‒ six from northern Idaho and north central Idaho, two from southwestern Idaho, and one each from south central and southeastern Idaho.
Orofino in north central Idaho experienced the largest numerical population loss in Idaho at 438, going from 3,142 residents to 2,656 (-15.5%).
Other local communities that experienced population decreases between 2010 and 2020 include: Cottonwood (-78), Craigmont (-43), Ferdinand (-26), Kamiah (-178), Kendrick (-15), Kooskia (-93), Nezperce (-8), Peck (-31), Pierce (-41), Potlatch (-41), Riggins (-47), Stites (-50), Weippe (-41), and White Bird (-8).