OROFINO - The Sunnyside Complex fires burning outside Orofino grew approximately 100 acres since the last update, and are now at an estimated 3,628 acres combined. On Friday, fire crews were able to make significant progress on the containment of both the Clover Fire and MM49 Fire.
The Clover Fire is reported at 1,632 acres and is now 45% contained, a significant increase from the 20% containment the day prior. On Saturday crews plan to continue holding and suppression action.
The MM49 Fire is reported at 1,996 acres and is now 30% contained after being reportedly 0% contained the day prior. On Saturday, crews will continue to widen and improve control lines.
Both wildfires started on Monday, September 7.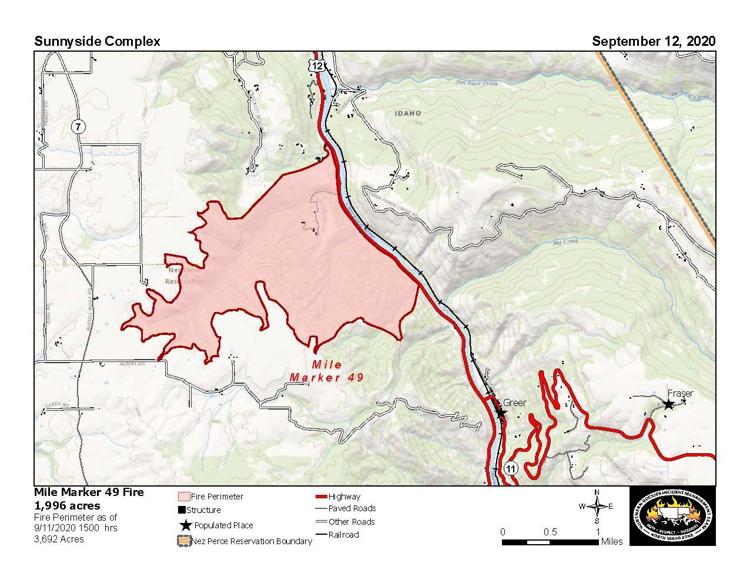 Community Meeting
Fire managers will host another community meeting on Saturday, September 12, 2020, at 6:00 p.m. This will be a virtual-live simultaneous meeting, and anyone with internet connectivity follow the meeting as it is live-streamed on the Sunnyside Complex Facebook page. For those with no or limited internet connectivity, there will be limited seating at the OCI Arena/Lumberjack Arena adjacent to the Orofino Fairground. Anyone attending the meeting in-person will need to adhere to COVID-19 mitigation guidelines, including minimum of six-foot spacing and proper use of face masks.