LEWISTON - On Sunday, July 26 at approximately 1:03 pm, the Lewiston Fire Department was dispatched to a report of a building on fire at 2825 Mayfair Drive. The first arriving engine found heavy fire coming from a 6 unit apartment building, juniper bushes and a neighboring apartment unit just starting to catch on fire.
Crews quickly began attacking the fire from the outside with multiple hose lines trying to knock down the fire on the neighboring apartment building. Initially fire crews had a difficult time accessing the fire with fire apparatus and hose lines due to the steep road and limited one way in/one way out of the Mayfair Ridge area. The fire was brought under control in about 35 minutes, but crews will remain on the scene for numerous hours extinguishing hot spots.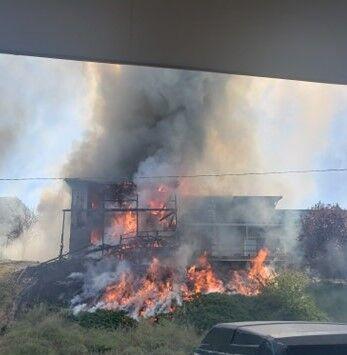 At the time the fire started, one occupant was home and was able to get out and call 911. There were no injuries to civilians or firefighters. Firefighters did have to battle the extreme heat and went through numerous air bottles before being able to get a break.
Chief Myklebust states, "he is very proud of the hard work of the firefighters in the extreme heat and how they pushed their selves to see that the fire was brought under control".
The Salvation Army and Red Cross will both be assisting those displaced due to the fire.
4 engines, 3 ambulances and 1 command chief initially responded to the fire, totaling 19 personnel. Additional personnel, a fire investigator, the Fire Chief and a rehabilitation response vehicle from Clearwater Paper Fire also responded. There were a total of 25 personnel on the fire scene. Lewiston Police and Public Works assisted with traffic control. Avista Utilities responded to assist with cutting power to the fire building.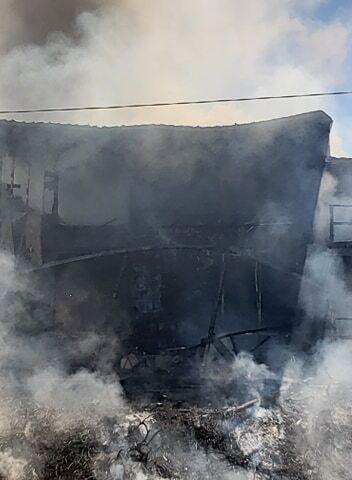 Due to the hot temperatures and additional emergency responses, off duty firefighters were recalled to the stations and mutual aid was received from Clarkston Fire, Asotin County Fire District and City of Asotin Fire. Chief Myklebust says "during these high heat days, it is very important that we have enough firefighters on the scene so that firefighters don't face circumstances that can lead to heat exhaustion."
There were numerous witnesses that initially saw the fire start in the juniper bushed below the buildings. The fire quickly moved up the hill and due to the extreme heat that juniper bushes put off the fire rapidly extended into the apartment building also burning the juniper bushes between the two apartment buildings. The cause of what ignited the bushes is currently under investigation.
An estimate of the damage to the fire building, the contents and damage to the neighboring building is unknown at this time. Two apartments received extensive fire damage, while the other units received smoke and water damage. The neighboring apartment building had fire damage to the outside, but fire didn't not get to the inside of the building.